We had the privilege to work closely with a few companies and see what they were producing for the public. All of these companies products we tested went through the purpose we assumed they were to be utilized as. We never received any paid compensation from these companies so our opinions come from actual use. Depending on your lifestyle and the lifestyle of your Presa Canario, you may want to choose the one you will eventually use the most, or opt to get a few variations. To each of these companies, thank you for your support, and we hope your hard work brings you the desired effect intended. Our collar hero's, and the links to their websites, in no particular order shown below.
Specialist for handmade Italian leather collars is Pierpaolo De Baptistis. His designs are absolutely gorgeous and can be customized to your liking with a name, logo, color and
more. Consider these your Louis Vuitton collar for your presa canario and you wouldn't want to work with your nicest clothing, now would you? The buckles are generally strong enough for decent pulls, but will give way to any sort of agitation work when your presa canario gets to a formidable size. Our inventory consists of three different styles of their leather collars with and without spikes and can attest they will hold up nicely without snapping off. Having these collars for over two years we can attest to their durability and For a mega fashion statement, these are definitely up there with our favorite collars!
We got the chance to try two of the large dog chains from Regal Dog UK to see how the latest trend of collars looked on our presa
canario dogs. First thought. "Very regal!" and an amazing showing off collar for these beasts. Depending on your fashion sense these may be your favorite to take your dog out on the town with. We would not suggest these for anything other than a casual dress up or walk if your presa canario is trained will. The chain collar is thin, so excessive pressure on your dog's neck would not be wise. Since we received these for sampling, they have expanded their line further to include our standard "go to" style of collars. One of the first companies to employ the "Cuban link" style chain for large breed dogs. Customer service is fast, effective and they are a fast-growing brand with a very nice staff.
Made in the USA, and by a great mom Caren at Bella K9 Bling makes unique and beautiful "one size fits all", large dog collars. Never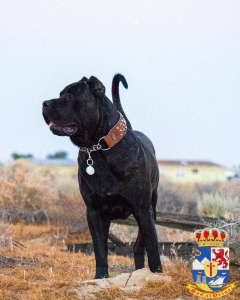 had we received a collar that completely transforms the look of our large presa canario and turned him into a "Scooby Doo" replica in such an adorable way! Crowned with jewels, these dreamy collars have such a passive way of showing the kindness, and even a slight menacing look to your dog. She has even created leather custom collars for puppies that shows an adorable and royal look. Utilizing martingale chains, D-rings, and quick links, they are extremely easy to put on and are extremely comfortable for your presa, even if they tend to "walk you". They deserve a look if you are curious to see collars never replicated before for monsters this size!
Out of Augsburg, Germany our eyes found an attractive, attention getting design that was reminiscent of the clothing worn in the 1870's
utilizing high end furs. This company uses only synthetic materials for fur replications on their LUX cuddle and similar collars. This collar style in particular went great on a cold day with our perro de presa canario female and made her look especially suitable for her snowy environment. We were also sent a custom neon yellow custom collar that contrasted especially well on our black brindle coated dogs. They also have a nice variety of tastefully done collars with completely different styles from one another.
We found this brand in a search for our beloved combination for the presa canario collar, and lucky for us they had it in a number of
colors! As they refer to it on their site as the "Combat Collar". This is essentially a 2-inch-wide triple stitched nylon collar, coupled to a military grade Alpine Cobra buckle, with an agitation handle built in. Their proprietary buckle is slightly different than the military issued version, but nonetheless will suit its intended purpose on holding back your beast. This is our preferred style of collar overall and we were happy to see a company using this style of upgraded hardware for powerful dogs. We suggest this style of collar early on for walking lessons, as well as protective work. BullyBillows also offers the non agitation handle version as well as leather collars and leads in brightly visible colors.